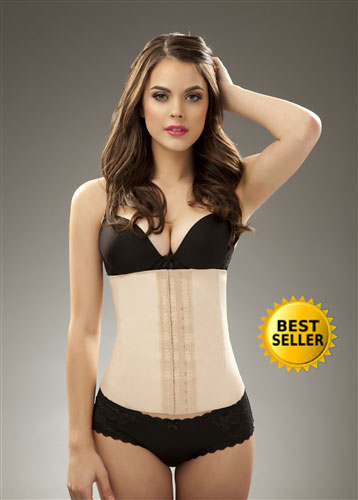 Extra Firm Trimmer
What a waist! Appear significantly slimmer and reveal your curves by wearing this Faja waist cincher that smooths your bulges and slims your waist. It has rods that give your body back support and good posture . It is a firm control power net braless waist cincher with double hook-and-eye front closure to secure compression. This product contains latex. If you are allergic or highly sensitive to latex, this product may not be suitable for you.
Awesome Features
Slip into SP Extra Firm Shapewear made with advanced latex technology with shape memory and elongation capacity that gives you a unique compression showing off sensual curves only our garments can give.

Made of Nylon, Latex, Cotton and Spandex

The Trimmer has been designed with the needs of today's woman in mind. It is ideal for shaping your body, correcting posture, and enhancing your figure. Consistent use will change the shape of your body, creating a new attitude, renewed self-esteem and increased confidence in your life.

This garment was produced with the highest quality fabrics. Each size is designed only to adjust to your respective measurements (see size chart).
Only 2 available
Only 4 available
Only 2 available
sale